Microtech, Inc. Celebrates Its 60th Anniversary
3.7.2013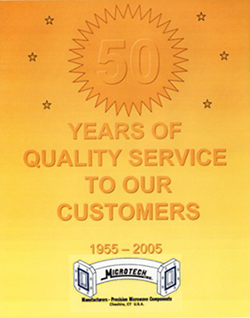 Microtech, Inc. has enjoyed a long and proud history of serving its loyal military and commercial customers since first opening its doors in 1954.
As a world leader in the design and manufacturing of flexible and rigid waveguide assemblies and passive microwave components for the Microwave Industry, Microtech products are found under the sea, on land, in the air, and in space. They are used in radar, satellites and communications applications just to name a few.
Major specifiers of Microtech, Inc. products comprise a who's who of aerospace companies and include Boeing Commercial Airplane Co., Boeing Space, EADS, Loral Space Systems, Raytheon, Lockheed Martin, Northrop Grumman, Israeli Aircraft Industries, and many, many more.
Microtech's 90+ employees – with a combined and unmatched work experience of over 1,000 man-years – strive to produce the highest quality products. They perform at this very high level of craftsmanship with one of the most complete and up-to-date vertically integrated manufacturing design and process facilities.
For more information on the Microtech 58th Anniversary, contact James Salonia, Sales Engineer.
---
9/25/2012
Microtech Acquires New Measurement System
«
previous
7/30/2013
New Paint Booth
next
»