Microtech, Inc. Mission Statement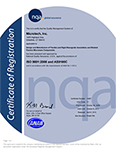 The objective of Microtech, Inc. is to continue to be a leader in quality and product evolutions as a designer and full-capability manufacturer of flexible and rigid waveguide assemblies as well as passive microwave components.
Microtech, Inc. produces a product to the quality expectations of our customers, on-time, and at a competitive price. We do this by providing the encouragement and the means for continuous improvement to the Quality Management System (QMS) throughout our processes, technology, products, and services.
In this endeavor, we are committed to upholding the highest standards of ethics in a team-like manner, bringing credit to our families, our community, and ourselves.
James A. McGregor
President