Microtech Acquires New Measurement System
9.25.2012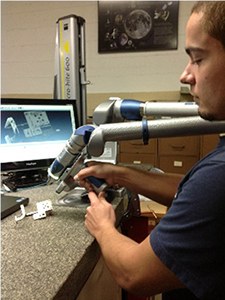 The 9 foot (2.7 m) FARO "Edge" 7 Coordinate Measuring Machine (CMM) multi axis measurement arm is the most advanced, state-of-the-art FaroArm® ever introduced. As the industry leader, FARO once again raises the bar in portable measurement with the revolutionary Edge. There is no comparable alternative product for the shop floor.
The "Edge" is a portable measurement arm that allows Microtech to easily verify our product quality by performing inspections, tool certifications, CAD-to-part analysis, and reverse engineering.
The all-new Edge is the first-ever smart measurement arm. With a built-in touchscreen and on-board operating system, it becomes your personal measurement assistant. With its stand-alone basic measurement capability, the FARO Edge takes portable metrology to the next level.
Combined with the laser Probe, the thinnest wall waveguides can be measured without deflecting the tubing, giving you a very accurate measurement and comprehensive reporting.
---
9/20/2012
New Agilient N5235A Performance Network Analyzer
«
previous
3/7/2013
Microtech, Inc. Celebrates Its 60th Anniversary
next
»